Florida Sun Pass Information

Anyone who drives a car in Florida and uses roads that accept Sun Pass, should strongly consider getting one. Sun Pass is the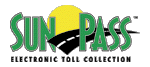 Florida Department of Transportation's Prepaid Toll Program. Sun Pass is now available as a means of payment across most of Florida's toll roads, and does save time, money, and the hassle and danger of looking for exact change. Recently some tolls have risen for non-Sun Pass users. Enjoy the benefits.

It retails for $25 and can be activated by calling 1-888-865-5352 or by logging on to the web site http://www.sunpass.com and opening a pre-paid account with an initial balance of $25.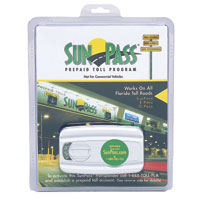 Just attach it to your windshield, after setting up your account, and the transponder allows you to drive through designated Sun Pass, E-Pass, and O-Pass lanes on Florida highways. The toll is automatically deducted from your prepaid account. A Must have!



Sun Pass Revolution
State officials are looking at radically changing the way you use Florida's toll roads.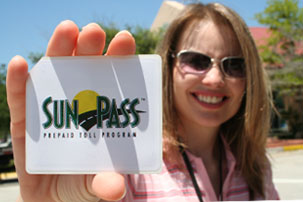 This paper-thin sticker could very well be the next generation of highway travel in the state of Florida.
For one reason or another, only about 58% of the people passing through Florida's toll booths use their Sun Pass transponder.

Some drivers I've talked with say they don't use Sun Pass because:
* It costs $25
* It's an invasion of privacy
* It looks ugly
* It doesn't work all the time
* It has a battery that dies



The new version of the Sun Pass transponder would throw all of those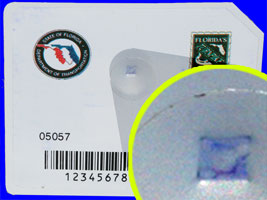 concerns out the drivers' side window. This credit card
sized sticker is currently in development. I recently had a chance to get an up close look at the prototype:

On the underside; you'll see a small bump. That's the microchip guts of the sticker. It uses no battery power. It draws all the power it needs from the over-highway readers. If the testing phase goes well in the next few months, the Florida Department of Transportation hopes to slowly change from the big bulky transponders to the little & sleek stickers.



Here's what the stickers will mean for you:
* The stickers would cost somewhere around $9-$10 a piece. That's much more affordable for many low-income drivers.
* The stickers could be available from vending machines. They could be sold with pre-paid amounts attached to the cards themselves. You could pay with cash and remain completely anonymous. No one would know who you are, or where you have driven.



Currently Sun Pass lanes and change lanes co-exist in a toll plaza that looks something like this: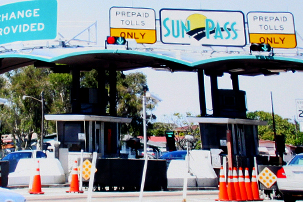 * The stickers are much smaller than the transponders in use today. They can sit on your windshield in a low-profile.
* The stickers never need a battery change. They have no battery. They will never die unless you peal your sticker from your window. Removing a sticker breaks the antenna and marks the sticker as void.

Here's what it will mean for our nightmare South Florida traffic:




In the future, Florida toll plazas will be virtual toll booths: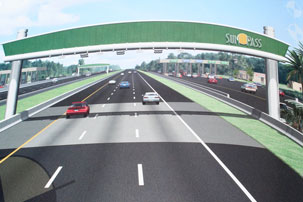 No more stopping. You just fly right through. Drivers paying cash would have to pull to a lane on the far right to wait in line while the SunPass users sail by under the virtual toll booth. This will eliminate many of the mind-numbing South Florida bottlenecks on toll roads.

The plan, in the distant future, is to eliminate cash lanes altogether. Right now, many rental car companies are installing SunPass in their vehicles. In the future, if driver can pick up a Sun Pass sticker from the grocery store vending machine, there will be almost no excuse to pay cash at the toll booth.


Information brought to you by Dave Malkoff : MMVI, CBS Television Stations Inc. cbs4