A Look Back From the Rear View Mirror
Well its been 14 years now since our first broadcast on SunCam.tv. It all started with
Ross Deprey
and a $25.00 webcam and an idea that some would say was a bit far fetched. Well at least his friends thought so, but not his initial website visitors. They were hooked immediately! Our tires were rolling and so were the emails. The website traffic started to match the traffic outside our car windows, that's when Ross knew he was onto something great!
Since then the website had grown to 5,000 clicks a day and a long list of emails and sponsorship to boot. Wow have things changed! It's been a lot of hard work, but we love it and that has made it all worth while.
This was our first cam car! Back then we were known as worldoncam.net. In this little car we would drive around holding a still cam on our dash taking snap shots by hand! Yes by hand, and turning those images into slide shows for rebroadcasting. Tell you what our hands would start to hurt after 500 shots. Soon it would be time to move on to bigger and better "wheels".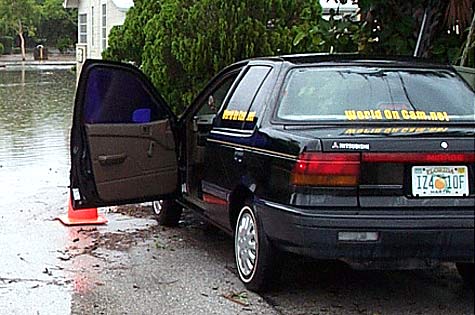 Well here's Ross, along side the next addition of vehicles. The logos were on the windows and the wireless air card was installed. We were finally live and cookin' with gas!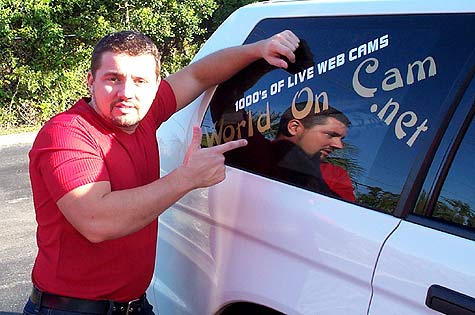 1, 2 & 3 it was a SunCam fleet. At this point in time we had a car, van and SUV all transmitting live shots to our visitors. We were all over the Sunshine State! Air shows, car shows, festivals and even hurricanes. You name it, we were there.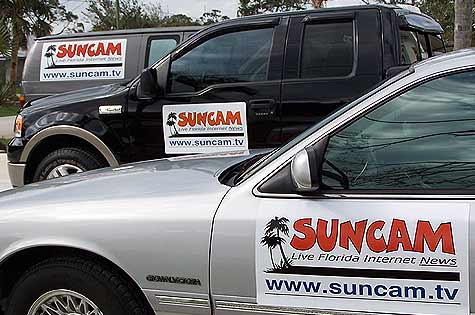 Here's the Ford "Crown Vic" fully decked out! We had a deep cycle battery under the hood external antennas on the roof, air cards and much much more. This car has seen the most of florida hurricanes. Its low profile made it ideal for storm chasing.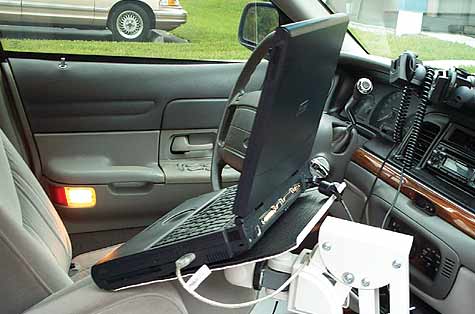 Here's the Ford truck. Another suncam.tv live cam setup. We finally had things down to a science!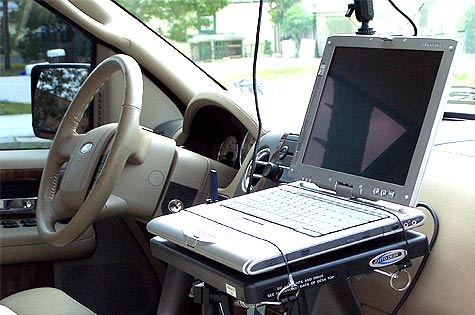 Take a look inside the full size ford van, now we are talking.. fully decked out to the max! 250 amp hours of battery power. Hey, if we wanted to we could have plugged this in like a news van to charge the batteres! Yes this was an awesome setup! Sorry to report that we've had to bid this vehicle a fond farewell.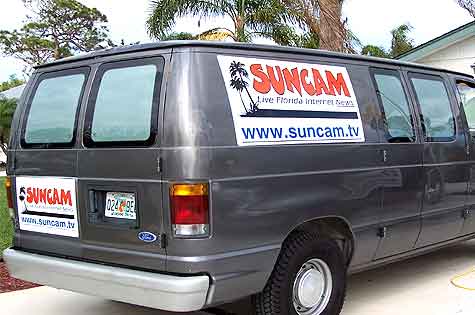 Smile Ross, you're on SunCam.tv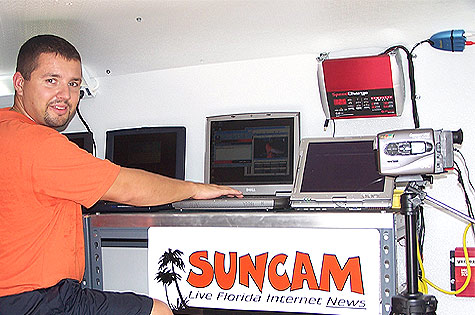 We've got one word for this next shot.... GEAR!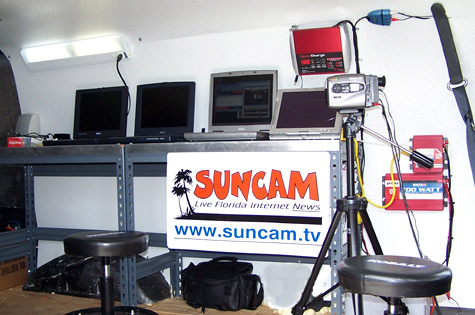 If you've never seen or even heard of a deep cycle battery, well here's your chance. Take a look at this bad boy!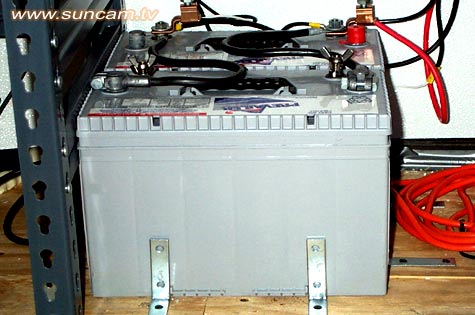 Back up generator, what can we say, it's Florida. Lightning capital of the world!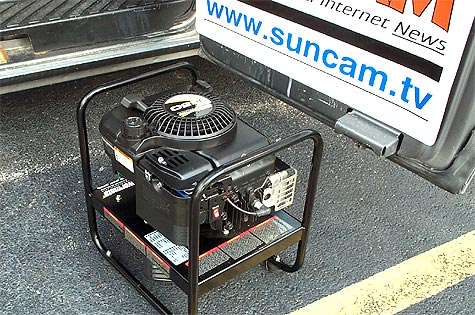 Our new SunCam ride. this has it all! to see more click here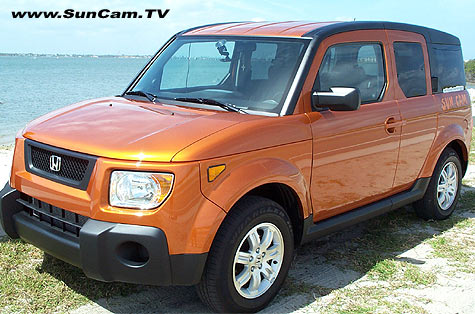 Okay you've seen the last 14 years of our hard work! Thank you all very much for staying with us over the years. We plan on keeping up the good work for a long long time! It's a never ending, ever evolving project! Thanks from the suncam staff and we will keep on showing people the sunshine state!